The weekend after Tan Ultra was spent in Wombat land, trudging about and doing my best not to grimace in pain. I thought I had recovered OK as I was walking fine 2 days after, but a bit of climbing (500m elevation gain) was enough to smash my quads!
With Skye and Erin.
I slowed down considerably, much to my annoyance. I didn't want to be so far behind from the crazy peeps but Isaac threw in a curveball and took us down a 'not recommended' track which I thought was a shortcut.
We ended up on the riverbank, probably 1km away from Link Track (the usual track we would take). It's always cool to have a bit of an adventure but I think I was not in good shape to enjoy it that day!
It was such a relief to find even ground again, and I made a better effort on moving. It's the 2km stretch which I really dislike as it's straight and boring.
Rock climbing Kiwi sheeps and Aussie mountain goats.
Photo credit: Bin.
Anthony and Erin were still waiting for us at the car park, which cheered me up. I offered them some of my
mooncake biscuits
, and I was pleasantly surprised that they liked them.
Anyway, it's my fault for putting my legs through the torture. Robbo did ask me how I was feeling when we arrived early that morning but he went on to answer his own question,
"You should be fine if you're here today!"
Funny how they made me sound like a hero and an idiot at the same time ...
Besides, how could I resist hanging out with crazy people who said that they were TAPERING for Surf Coast Century??
Bloody hell.
Anglesea Beach.
Last Saturday was Surf Coast Century weekend over at Anglesea, a 2-hour drive for us. We arrived before 3pm and hung around at the finish area before deciding on a spot to ambush our friends.
We went as far as Melba Parade, 5KM away from the finish area but Robbo was just coming in!
So we quickly backtracked to Angleasea Surf Life Saving Club (2KM away from the finish area) and waited for him. We saw Kellie Emmerson coming through (she nabbed Women's Champion and broke the course record) before Robbo came through.
The people on the left just doing their own thing. Haha!
Toddler is impressed with the shovel.
A few days ago the dude told me he was having an iffy cold and wasn't too sure about finishing within his target time of 9:30 but he was just 2 minutes off. Pffft.
At this stage I was in contact with Isaac's wife, Sue, for updates on his whereabouts. He freaked me out for a while (#motherhen) when we were unable to track him online. The tracker never showed him checking in at halfway point so we thought something must have happened and he may have quit.
Sue informed me that he was still moving, despite a hiccup during the first half. Gut issues and possibly overheating (it was a warm day) and he was 40 minutes behind schedule.
Not sure whether runners enjoyed my cow bell ringing.
Sorry if I'm rambling but gosh, it was quite nerve wrecking to decide where to park ourselves for an ambush and to gauge how far our friends were. Anthony and Gary were in contact, too but they were at Moggs Creek (Leg 4) to cheer and support our other friends over there.
Rob said to us that he had a tough day in the office.
Anyway, we stood around along a walking track like idiots. Walkers were asking us permission to walk on the public path, oops.
We were getting hungry but we weren't sure whether we had enough time to run back to the car to grab our foldable chair and food/water, in case, JUST in case, Isaac came through.
Here he is!!!
When he finally came through 30 minutes past our anticipated time, he jumped around when he spotted us. He seemed very relieved to see us (I hope so!!) as he stopped for a little chat. Poor fella looked out of sorts but we shooed him off so he could beat his previous time. (This year, he finished 2 hours faster!)
We returned to the finish area to meet Isaac and his family (his parents were visiting from NZ) and hang out for a while. Bumped into other friends who were waiting for their friends.
Next up was Yuan, whom we last knew was an hour behind Isaac. So we drove back to Melba Parade (not sure what beach it's called) and waited for a bit. I realised later on that as it was a residential area, I didn't ring my cow bell too much.
We waited for a while and decided we may have missed Yuan. So we drove back to the finish area again, and parked ourselves at the mouth of Anglesea River, 300 - 400m away from the finish gantry.
It was getting dark soon and by 6.15pm, I found myself doing what I did last year - putting my headlamps on flicker mode to let the runners know from afar that the finish line was near.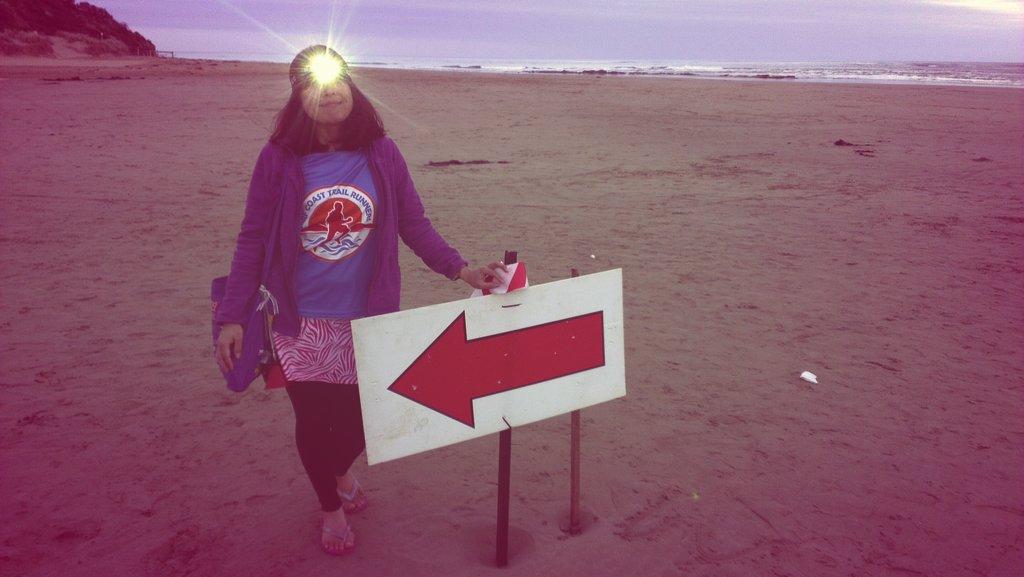 Le dorky minion.
The hubs said I was clearly just so eager to play my part be part of the event but I argued that since we were still waiting for Yuan and everyone else out there, I might as well make myself useful. Haha!

I did the same thing last year but this year was probably more meaningful as we had relieved runners thanking us for being there. Some spectators thought we were part of the SCC committee haha!
Runners started trickling in. The O'Briens looking good ... Vanessa ... Nicky ...
Photo credit: Bin.
Yuan eventually appeared and was surprised to see us. Muahaha!
His family ran with him towards the finish, as what most family and friends did.
As night fell, Anthony came to keep us company (he brought pizza, thank goodness as we were getting hungry!!) while waiting for Claire. Libby and the kids came to wait for Dion.
Dion, Libby and the girls.
Photo credit: Bin.
When they came and left, the hubs and I stayed on to wait for team McHen (Gavin, Sophie and Sandra) and we didn't realise that the guy who was hanging around nearby was Gavin's brother. :)
Gavin leads the disco bus.
Photo credit: Bin.
Team McHen was like a disco bus. Besides his headlamp, Gavin had pink fairy lights or something around his shoulders. The troops behind him were very serious and looked as if they were on a death march.
It was 9.15pm when we left our spot for the finish area to join the celebrations. Dion and team McHen did fabulous for their 100KM debut! #surfcoastcentury
On another side of Australia, our friend Siqi finished his 100KM debut at Great North Walk in 16:02!!
Anyway, it was a tiring day despite us not running. We drove home exhausted and hungry, and crashed into bed at 1am.
It has some scallions and parmesan cheese in them.
p.s Because we were so hungry that day, we finished our scones that evening! We still needed dinner, though!