I know, right?
Me, running a 100km?????
Which sane person would consider spending an entire day on their feet, running laps around The Tan, and 26 laps to be exact?

Hey, I wasn't the only one!
Date: 31st August 2014, Sunday.
Event: The Tan Ultra, by Trails+
Time: 7am to 7pm
Venue: The Tan Track, Royal Botanical Gardens.
Distances: 100km, 50km, 42km, 21km, 12km, 8km.
The days leading up to the event was a flurry of nerves. I was shitting bricks and breaking out in cold sweat every now and then, I had to keep comforting myself that I could do it. 100KM is a big fish to fry, no doubt about it. Two Bays Trail 56KM was my longest distance ever and so it came to no surprise to have some people roll over in shock when my participation was finally disclosed.
We arrived just before 6:30am to Brett and team still setting up the area. I made a quick dash slow walk to the loo and made it back in time for the briefing. Pre-race jitters!
My plan was pretty simple, spending no more or less than 27 minutes per lap. Fueling was every 30 minutes after the 1st hour. Hammer Endurolytes and AFC went together hand in hand at every hour. A power gel at every 1:30 hour, bananas/power bars/a few sips of Tailwind every 30 minutes in between. Make the first 50KM in good time for a scheduled 5 minute break, and continue on to tackle the next 50KM.

As Lap 1 included an additional 500m, I still made sure it was completed in 27mins or so. I realised I was hungry and grabbed the remaining peanut butter sandwich I was supposed to have had for breakfast. During Lap 2 and 3, despite going a wee bit fast by 20-30 secs I was feeling a bit worried. My legs were rusty, forgetting how it felt like to run. Not sure if because they were overly rested during taper week!
I could feel blisters already forming on my big toes and last toes, despite wrapping them up with Elastoplast. ARGH! I pondered about stopping for a while to wrap them up with another layer but concluded that I'll do it at halfway point. By Lap 4, I was starting to forget how many laps I had done.
SCTR's fashion parade!
Photo credit: Bin Wong
Once I had warmed up, it was easy to fall back into the training rhythm and kept on moving. I had somehow messed up the Garmin Fenix which wasn't tracking my progress carefully and I was frustrated. Thankfully the Tan track has distance markers and digital clocks at the start area and halfway point (near KM1.75) so they were good reference points monitor my progress.
Gavin The Pink Flamingo and Gary each accompanied me for a lap or two, and although they said it was up to me to dictate my pace, each lap was also completed 30 secs to a minute faster. Not sure whether running with Gavin was a great idea as groups of people would give him an applause when we ran by! We also overheard a boy laughing and telling Gavin he's "a sicko"!
We were 2 minutes ahead of schedule from the start/finish so we had to slow down a lot!
Photo credit: Gary Cheong.
Ran past Shaun and had a chat (sorry to interrupt the conversation between you and Jun) about running dresses and how many laps to go.
I couldn't wait to get over Lap 13 (50KM mark) so I could take a 5 minute break. The random SCTR picnic party was in full swing and the least I could do was say hi and chat, smile at the kiddies (too bad I wasn't smelling great otherwise I would squish Josh into a cuddle!) and make sure they were helping me eat up some of the food I had prepared.
I was still feeling good and happy. Which was good, right?

I forgo the chance to wrap up my toes for fear that if I set my feet free from my shoes, I wouldn't want to put them back on and start running again!

Or if I sat down to sort them out, I'd have trouble getting out of the comfy chair.


After my 5 minutes was up, Libby accompanied me on Lap 14 and it was great to have some girly chat for a while. I'm not saying Gavin and Gary were bad company!
I'm not sure when Dion and Robbo kindly accompanied me, but most likely during lap 16 and 17? Or was it later on, I can't remember now. I vaguely remember telling them I had 9 or 10 more laps to go. Poor chaps had to go slow for me and I could tell that Robbo may have dozed off while plodding along somewhere between the Jardin Tan and Shrine of Remembrance.
(I'm joking! At that moment he said to me,
"I heard about you and your secret training..."
and Dion went,
"OOH! ... Secret training..."
Lap 17. 65.5KM in.
My legs were starting to feel a bit weary. My quads were showing signs of imminent cramping to come. I was slowly slipping behind my 27 minute lap, taking 30 minutes for Lap 16 and Lap 17. I was annoyed but I still harboured secret hopes to turn it around.

I did ask Andy for steroids but ...

To be fair, I was expecting this to happen at this stage. Given the circumstances of insufficient training and lack of powerful horsey legs and ultra experience, I was anticipating horrible things like a meltdown. I was hoping it would only begin after Lap 18 (69.3KM) but ah, just a lap too early.
At the 8th hour into Lap 18, I forgot to pick up my Endurolytes caps and AFC which were left on the stool. I was just a 100m away from our aid station and I looked back, hoping that someone was looking my direction so I could signal to the hubs or someone to bring it over.

Robbo was jogging past and I tried calling out to him so I could ask him to go and get them for me (hey, what are friends for?) but he didn't hear me. I wasted at least 2 minutes standing there and trying to send telepathic messages to my support crew but no such luck. On hindsight, I should have ran back and grabbed them.


Halfway through, I must have fell asleep or went delirious in the heat. I thought I was on Lap 19 and eagerly pushed myself towards the timing mat ... only to realise that it was only Lap 18. Boo!


At this stage, I did feel a bit down but thankfully, not bad enough to pull me into a sinkhole.
I felt a squelch in my right shoe and I was horrified. Did my blister just pop or was it bleeding? I glanced at my shoe but thank goodness there wasn't a stain or a splotch seeping through the upper sole.
By Lap 20, I was just happy to complete the damn lap despite being 15 minutes behind schedule. To have run my longest distance ever was enough to mark it as an accomplishment, and good gawd, 6 laps to go!
I was starting to feel sick. I thought I was going to throw up yet I was mostly bloated and hungry.
Eating became a chore, so did sipping on Tailwind.
Everything was becoming a chore!
Even Andersen Street felt like a mountain.
By then, I was resigned to the fact that I'll just finish the damn race and I'll be happy enough! (Though secretly I was not impressed with self. *sniff*)
By Lap 21 I was ecstatic. I whooped out to Claire and Kirsten that I had 5 laps to go! FIVE FREAKING LAPS!!
Of course I was grinning like an idiot!
With Kirsten who PBed at the Shepparton Marathon that morning!
Photo credit: Claire Beyer.
What is 5 laps?
Just 20KM.
1/5th of the way to go.
Lap 22 onwards had the hubs keeping me company and carrying my stuff for me. Unfortunately I was not sticking to my nutrition plan by then as I was afraid I would throw up or get a tummyache and have to spare too much time at the loo. If I did throw up by the Tan track, would Brett and Andy make me clean it up?


I couldn't even manage to run downhill after Andersen Street as the impact would jar my quads, making them tighten. It was so frustrating! I was walking more but still managed to run on the flats.

The groin area was starting to cramp as well, and running bow-legged was not even remotely funny.
The hubs insisted I take a gel but I said I'd puke. He asked me to swing my arms and power walked like "I mean it" but I just glared at him.
During Lap 23 I said to him,
"Wouldn't it be funny if I told Brett I'm quitting? I bet he would slap me silly!"
89KM later ...

We giggled, just thinking about the meme!



Instead of Tailwind for the last 2 laps, I swapped to Staminade which turned out to be something which should have been done since Lap 21. It was the sweetness which my body craved that Tailwind was not able to provide.
Forced down a gel.
Part of the plan was to execute a slightly quicker finish during the last 3 laps but I mentally laughed at myself as it was no longer possible.
Nevertheless, I did try. I managed to quicken the pace as much as I could during the flat bits of the remaining 2 laps, including a sprint to the finish.
The Tan track was totally deserted on a Sunday evening. It was clearly dinner time!
Photo credit: Bin Wong.

YAY!


12:38 for a 100km is a far more realistic time I had in mind when I signed up for this. I knew making the 12 hour cut off would have been hard but not impossible. I just needed to have started my training earlier.
Thoughts about the event:
1. Cheerful vollies!! To hear anyone call out my name with encouragement was lovely.
2. Runners' support crews had fun picnicking in the sun and cheering the runners as they ran by.
3. I still got a medal despite finishing past the cut off time, thanks to the awesome race director, Brett. (OMG so happy to see that the finish gantry was STILL THERE, unlike some races I've been to.)
4. That mountain over there at Anderson St ... where did it come from??
5. Toilets were so far away but I only needed to go just once.
6. The Tan was packed to the brim with walkers, joggers, runners, cyclists and baby prams. It is a public park, of course, so it's no fault of the organiser. BUT walking 6 abreast is blocking the entire path!
7. It was a warm day, hitting as high as 20'C.
8. It was extremely dusty so shades would have kept the dust out of the eyes. Held my breath at times when someone ahead of me kicked up some dust.
With Brett and Andy ... hey, aren't we all in Hokas??
Photo credit: Bin Wong.
About my strategy:
1. Broken into 4 parts, the 3 hour segments were for easy nutrition and fueling instructions for my support crew. However, it seems like my instructions were very hard to understand. Mmmm we won't be having a tabled discussion lest a heated argument gets in the way. I might end up sleeping on the couch!
2. After the 1st hour, it was 2 Hammer Endurolytes and 1 AFC per hour. Additional 2 capsules of Endurolytes would be consumed when needed. Every 1:30 was a power gel.
3. Food such as bananas, peanut butter sandwiches and/or power bars were every 30 minutes when needed. Consumed only in halves.
4. 27 minutes per lap. After lap 13 (50KM in 5:51), it would be a 5 minute break.
5.Walk up Andersen St since lap 1. Thanks to Andrew O'Brien for this very important tip.
6. The water fountain just before the start of Andersen Street was my stop point, and the one where buses were parked at the entrance to the Royal Botanical Gardens. Plenty of water stops available.
7. The 4 parts were easier for me to remember my target times, e.g. 25-26KM every 3 hours.
I had good intentions but bad execution. Sigh!
What went wrong:
1. At 8:00 and 9:00, Endurolytes were taken 30 minutes later.
2. Did not eat my lunch of peanut butter sandwiches during halfway point as planned. Had power bars instead. I knew it!! I promised myself that I MUST eat the damn sandwiches for the protein but I still disobeyed myself. Not impressed.
3. Did not wrap my little toes and big toes properly to avoid friction. Hmm.
4. Expected the wall after 60KM, which was no surprise. But very glad that it was not a huge crash, just very gradual, I might say.
5. The remaining 6 laps were uncomfortable. Bloated tummy and felt a bit hungry, but just couldn't force myself to eat up. Tsk tsk. Tailwind was no help and gave me gas. Farting during an ultra is no fun. Had to make sure the coast was clear before I let it go. :(
6. The cramps. Oh the cramps. Besides the quads, the groin area was cramping for a while. Geez. Generously applied deep heat ointment on quads and hammies which helped for a while. Lap 21 onwards, I was consuming more Endurolytes and munched a few chips after every lap as I really didn't want to relive my miserable Buffalo Stampede experience.
7. Should have switched to Staminade, ate my sandwich and more gummy bears during the last 5 laps.
8. I should have memorised my nutrition plan by heart instead of relying too much on my crew. I have myself to blame.
What went right:
1. There was not much pain and misery to deal with. Which was a relief. No mental breakdown or anything. I can remember most of the conversations I had with friends who ran with me. Seriously.
2. Just move, move, move those legs. Yeah, I was a robot alright!
3. I must have gotten something right to have everyone say I was looking good, even after 50/60/70/80KM. I don't know why!!
4. Wasn't slouching much when running, I think. I'd hate to think I can mess up my running form when running so incredibly slow.
5. Slathered on sun block 3 times. Still have a tan and a bit of skin peel on the back of my left arm.
6. No bawling at the finish line!!!!!! Kirsten is disappointed that it didn't happen haha!
The damage. Yuck!
The Thank Yous
It was overwhelming to have runners, volunteers and supporters cheer me (and everyone else) on all the way. I wished we could have chatted for a bit, but I could only smile gratefully and be on my way.


Many thanks to my one-man support crew a.k.a the hubs who did his best to decipher my instructions and running the last 5 laps with me even though I really didn't want him too. Like a broken record and much to his annoyance, I kept reminding him at every lap to feed our friends the food we had brought.
The SCTR crew was out in full force, sharing their #TrailLove all around. Nothing like spotting the blue banner just after the start/finish gantry from a far. Nothing like seeing the familiar faces enjoying their picnic whilst some crazy people run laps for fun. Massive thanks to Isaac and family, the Beyers, Gary and family, the McCleishs, Siqi and Robbo for dropping by. Jon and Shaun, and for especially to Kirsten for waiting for me to cross the finish line one last time. Massive thanks to everyone who sent encouragement via Facebook!


A heartfelt thanks goes out to Brett and Andy for waiting patiently (or impatiently), making sure that I had this 100km done and dusted. I must have worried Brett for a bit when I had earlier on asked if I could start a bit early, just in case I needed more than 13 hours. Yes, 13 hours. Worst case scenario, you know?
Thank you to everyone and my friends near and far, here and back home for the support and encouragement. Thank you to the nice people out there. You should know who you are!
The possum was caught eating some of the leftover brownies!! Dammit, I wanted to eat them!
Photo credit: Bin Wong.
How important this race was to me
I needed something to make me feel good about myself, something I could be proud of. I won't elaborate on why, as you might think I'm asking for sympathy.
I also want to dedicate this race to the loving memory of my paternal grandmother who passed away on May 15th this year. I bawled my eyes out when my sister told me the news but I was unable to return to Malaysia for her funeral.
The past few years were hard for my grandmother and the people around her. I didn't really visit her much and I feel bad, for being such a horrible granddaughter.
During my younger and teenage years, she stayed with us a lot and the only thing I have of her are precious memories of those happier days. Occasionally during my long runs around the Tan, these memories would creep into my head and I'd start to tear. I had to push them away to get my run done, otherwise my vision would be blurred with tears.


I don't think my grandmother would be impressed to know that I just ran a 100km, let alone even a marathon or half a marathon. I imagine her shock and attempts to dissuade me from running.
"Run? For how long?"
"12 hours??"
"What for?"
"Don't be ridiculous!"
"Don't go and hurt yourself!"
"You're a girl, stop being a tomboy. You're a woman now. You have a husband!"
"Where are my great-grandchildren?"
I really hope that she is in a happier place right now, and knows how much she was loved.
What do I really think about running 100KM?
Like any event regardless of distance, I think training is a huge factor in preparing your body to breach its limits. Getting the nutrition right would be the next important thing. I made the mistake of thinking that 3 months was enough for me train for it, but I underestimated the problems which would arise. Such as insane period cramps on the day I was supposed to do long run. Injury. Laziness. Winter.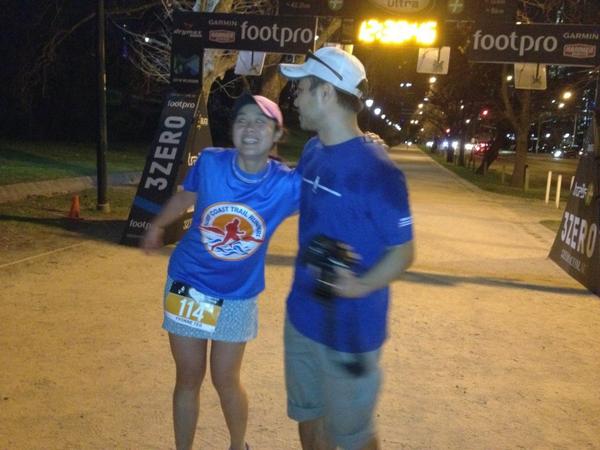 I am possessed, heehee.
Photo credit: @GOW100s.
Training for an event will consume you and take you away from everything else. I was always crawling into bed at night, exhausted and dreading the next training run. But secretly I looked forward to it, because it was something that had to be done.
Running laps can be mind numbing but the easiest way to train and race. Slowly but surely, as you chip off one lap at a time, it will be over before you know it. I think I'm getting the hang of going loopy!
In all honesty, I never thought I would fail to complete this monster of a distance, unless there were major issues I could not deal with. Don't get me wrong. In spite of having some faith in myself there were also "what if" moments. What if I had to quit? How badly would it affect me? What if the cramps were going to be as bad as Buffalo Stampede again?
My secret santa sent me a bottle
of champagne to celebrate! Wow!!!
In summary (good gawd, why do I have so many summaries??):
Training - 6.5/10.
Stupid fool. If I didn't miss 2 long runs, I think I would have done a bit better at preparing my legs to go further, thus keeping the cramps further in abeyance, and finishing within 12 hours.
Mental strength - 9/10
. Because of that one time morale was low. Zero whining.
Nutrition - 7/10. The last 3 hours should not have been compromised. Lack of protein and sugar, and failing to stick to the plan. 7 power gels, 30+ Endurolytes caps, 10 AFCs, 4 power bars, a few handful of chips, 600ml of Staminade, but I can't remember how many bananas, Tailwind and Coke was consumed.
Fatigue - 9/10. Is there such a category? I just wanted something I could give myself 9/10. I was not as exhausted as I thought I would be. I must have consumed a lot of caffeine!
Cramps - 7/10. Groin area is new to me but thankfully I could still walk or shuffle along the way albeit bow-legged. Please refer to Training above!


Happiness - 10/10!
I'd like to think that I was 95% of the time happy during the run. :)
p.s. did you see a lady walking her pet rabbit on a leash? and the 3 little pugs which made me giggle as I recall
The Pugs of Westeros
?